Volunteer Drivers
Program Goal
A daytime, Monday to Friday, Volunteer Driver Service for citizens of Salmo/Ymir and surrounding areas who require assistance to access medical, dental and other essential appointments.  This program is for essential, non-emergency appointments only.
COVID Protocol/Policy
Salmo Community Services has implemented procedures required by the Volunteers before and after doing a drive.   They will be required to do a self assessment prior to each drive and report any negative findings to the Coordinator.   Likewise, anyone being driven, will be asked a series of questions to ensure the health and safety of both the driver and the person being driven.   You can also access up to date information on COVID-19 on the BC Centre for Disease Control website:  http//covid-19.bccdc.ca/
How it works:
Once a person is referred by their doctor, they can call our Coordinator indicating the date, time and location of their appointment. The Coordinator will check availability of the driver and then arrangements will be made for the appointment requested. The participant is responsible for paying the driver an expense honoraria directly.
Referrals
Service is provided to individuals referred to the program by a medical practitioner or community support worker. Self referrals are accepted if supported by medical or community service professionals. Once participants meet screening criteria, they are registered with the program and can book appointments independently.
Volunteer Honoraria
Participants using the service pay an expense honoraria directly to the driver.    
Example rates:
In Salmo $ 5.00
Rural Salmo $ 8.00
Castlegar, Nelson or Trail and return $15.00
Volunteers
Our Volunteer Drivers are individuals wanting to make an important contribution to their community. Volunteer drivers must:
be screened by the program coordinator
agree to code of conduct and confidentiality agreement
drive vehicles in good working condition
hold adequate car insurance
be drivers in good standing with ICBC
submit a criminal records check
For further information, please call 250-357-2277
This program is funded by Interior Health Authority and Columbia Basin Trust through DOT night funds.
BC Transit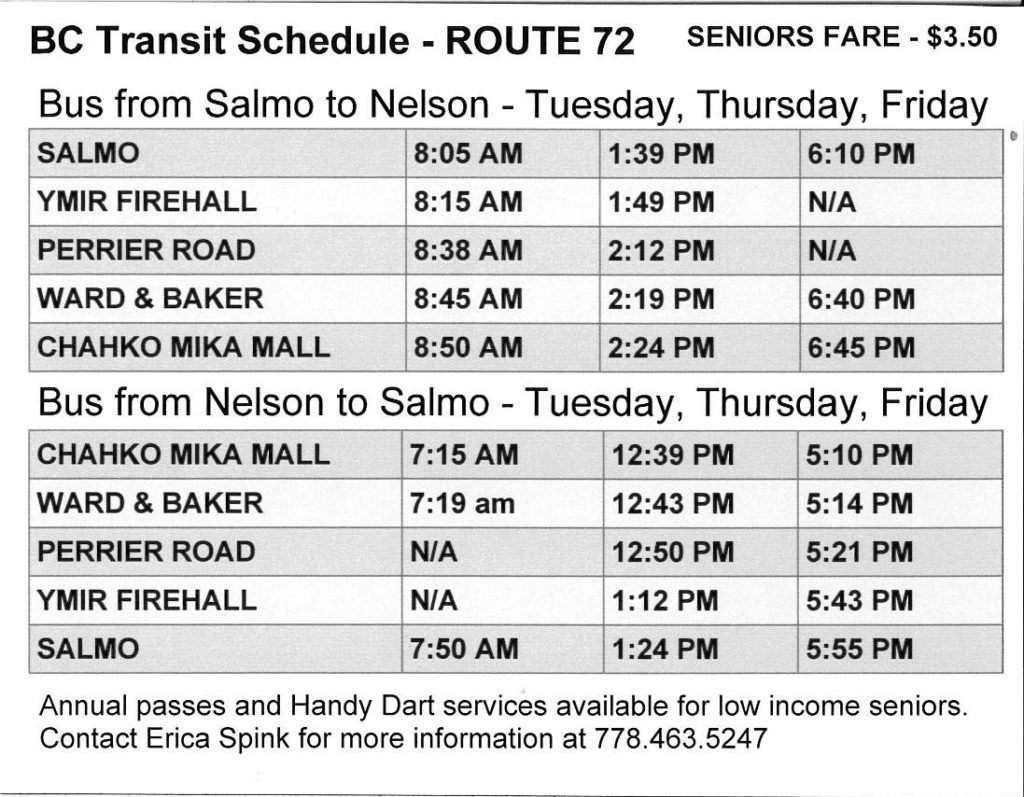 Transit system is currently available Tuesdays, Thursdays and Fridays.   Please see website for further information.   
https://www.bc.transit.com/west-kootenay/home
Better at Home